08/14/19 FINAL PUBLIC NOTICE
The Federal Emergency Management Agency (FEMA) has received a subgrant application from Franklin County for repairs due to damages from Hurricane Michael (DR-4399-FL) to the roads and roadway shoulders of Alligator Point. Pursuant to Executive Order 11988 and 44 CFR Part 9.12, final notice is hereby given of FEMA's intent to provide funding for the following project under the Public Assistance (PA) Program.
An initial disaster-wide Public Notice was published October 30, 2018 for Hurricane Michael. Funding for the proposed projects will be conditional upon compliance with all applicable federal, tribal, state, and local laws, regulations, floodplain standards, permit requirements, and conditions. This action complies with the National Flood Insurance Program (NFIP) requirements.
Locations of Work:
Site 1: Harbor Circle; Alligator Point FL, 32346 29.89737, -84.37810
Site 2: Clemens Street; Bald Point FL, 32346 29.89642, -84.36817
Site 3: Angus Morrison; Alligator Point FL, 32346 29.89651, -84.36732
Site 4: Bay View Drive; Alligator Point FL, 32346 29.89694, -84.36999
Site 5: George Vause; Alligator Point FL, 32346 29.89606, -84.36710
Site 6: Alan Lane; Bald Point FL, 32346 29.90036, -84.34392
Site 7: Chip Morrison Road; Alligator Point FL, 32346 29.89390, -84.37595
Site 8: Harry Morrison Road; Alligator Point FL, 32346 29.89478, -84.37469
Completed Work and Purpose:
The following roads have been repaired back to pre-disaster design, function, and capacity within the Community of Alligator Point in Franklin County Florida.
• Roadway Shoulder Repairs completed with Lime Road Base:
Harbor Circle, Chip Morrison Rd, Clemens St., George Vause Rd., & Alan Ln.
• Roadway Repair completed with Milled Asphalt:
Angus Morrison Rd.
• Roadway Shoulder Grading and Repair:
Bay View Dr.
• Roadway and Shoulder Repair completed with Lime Rock
Harry Morrison Rd.
Project Alternatives:
FEMA has determined that the only practicable alternative is to repair the Roadways and Shoulders to their pre-disaster condition to provide necessary access to residents.
The no action alternative has been considered; this alternative is not feasible; the roads provide necessary access for residents. Alternate locations for the roads outside of a floodplain are not practicable because Alligator Point is entirely within a mapped floodplain.
Comments:
This announcement will serve as the final public notice regarding the above-described actions funded by the FEMA PA Program. Interested persons may obtain information about these two specific projects or a map of the affected area by writing to the Federal Emergency Management Agency, Region 4, 3003 Chamblee-Tucker Road, Atlanta, Georgia 30341, or by emailing FEMA-R4EHP@fema.dhs.gov. Comments should be sent in writing with either subject line:
PA-04-FL-4399-PW-00264 CAT C
within 15 days of the date of this notice.
Franklin County acquired FEMA funding through the Flood Mitigation Assistance Program to develop a Flood Mitigation Plan. This plan will support the County's Local Mitigation Strategy and is designed to accomplish the following:
Maintain the County's CRS certification and improve its rating which results in savings to homeowners on their insurance premiums
Educate the residents of Franklin County through outreach about the hazards of flooding
Identify flood prone areas throughout the County and sources of flooding
Identify loss reduction measures through effective mitigation strategies
Raise awareness of the beneficial functions of the floodplain.
The Plan was developed and organized following the ten step process under Section 510, "Floodplain Management Planning", National Flood Insurance Program Community Rating System Coordinator's Manual (April 6, 2016 Draft Edition). The ten step planning process includes:
Organize;
Involve the public;
Coordinate;
Assess the hazard;
Assess the problem;
Set goals;
Review possible activities;
Draft an action plan;
Adopt the plan; and
Implement, evaluate, and revise the
The public and other internal and external stakeholders are highly encouraged to review and provide feedback to this plan. This plan will remain on the county's EM website until close of business on Monday, October 31st.
To Access the Franklin County Flood Mitigation Plan Click Here
Email Feedback to EMFRANKLIN@Franklinemergencymanagement.com
Homeland Security Exercise Evaluation Program (HSEEP) Compliant Exercise and Drill Planning and Execution Results:
RFQ Advertisement that ended on June 3,2016 Click Here
Contracts submitted:
Results of Contract Submitted:

__________________________________________________________________________________________________________________________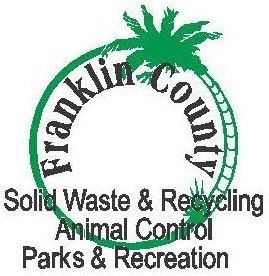 FRANKLIN COUNTY DEPARTMENT OF
Solid Waste & Recycling – Animal Control – Parks & Recreation
210 State Road 65
Eastpoint, Florida 32328
Tel.: 850-670-8167
Fax: 850-670-5716
Email: fcswd@fairpoint.net
PUBLIC NOTICE
Right-of-Way Debris
Franklin County's goal is to maintain clean and safe roadsides. The uncontrolled and unsanitary right-of-way disposal of debris by residents in unincorporated areas, is strictly prohibited by Franklin County Ordinance No. 2016-06. Not only is the debris and trash placement against the law, it degrades the appearance of the county roads and adjacent properties. Any person violating any provision of this ordinance is subject to penalties. If you are in the incorporated area of the County, please contact City Hall for direction on Right-of-Way debris pickup schedule and guidelines.
Allowable Right-of-Way Debris in unincorporated areas of Franklin County
Yard trash limbs up to 18" in diameter, no more than 4 ft. long.
Pine straw, pine cones, leaves and grass clippings
*It is prohibited for Contractors to dispose of debris on the Right-of-Way.*
Any other debris will be the owner's responsibility to dispose of properly at the Central Landfill
Please take the advantage of the once a month Amnesty days
2017 AMNESTY DAY SCHEDULE
Sat. Jan 14 Wed. May 17 Wed. Sept. 13
Wed. Feb 15 Wed. June 14 Sat. Oct. 14
Wed. March 15 Sat. July 15 Wed. Nov. 14
Sat. April 15 Wed. Aug. 16 Wed. Dec. 13
DEBRIS WHICH IS BROUGHT IN BY COMMERICAL CONTRACTORS
OR BUILDERS WILL NOT BE ACCEPTED AS AMNESTY
Franklin County Central Landfill Hours of Operation
October 1st – March 31st Winter Hours 9am – 4:30pm
April 1st – September 30th Summer Hours 7am – 4:30pm
Closed on County Holidays and weekends, except for Saturday Amnesty Days.
If you have any questions, please call the Franklin County Central Landfill at 850-670-8167
or email fcswd@fairpoint.net.