FRANKLIN COUNTY BOARD OF COUNTY COMMISSIONERS
POSITION: Office Administrator & Special Needs Coordinator
CLOSING DATE: Thursday, June 25, 2020
CONTACT PERSON:Pamela Brownell, Emergency
Management Director
28 Airport Road
Apalachicola, FL 32320
850-653-8897
ANNUAL SALARY: $25,000.00 (Benefits after 90 Days)
JOB DUTIES/REQUIREMENTS: Attends to the public visiting the Department. May perform receptionist duties (i.e. give/receive information regarding Department operations; answer questions regarding programs). Maintains department files and records; compiles and prepares reports and other data from such records; maintains EM Website & social media; sends messages through Alert Franklin, processes PA claims through FEMA while maintaining documents needed to process these claims; maintains and processes grant reports primarily but not limited to EMPA, EMPG, & COUNTY. Screens and routes incoming mail, correspondence and other work-related materials to appropriate departmental personnel according to content of communications. Attends meetings and conferences as required by the Director; makes presentations and represents the department appropriately; takes/transcribes minutes. May perform secretarial duties for the department (i.e. type and/or compose correspondence, reports, statements, forms, and other materials; schedules and coordinate arrangements for meetings conferences and workshops). Maintains contact with field personnel regarding departmental work responsibilities, activities, deadlines, etc. Processes, sorts, reviews for accuracy, and files various documents in accordance with established procedures, systems and routines; maintains office records relating to accounts, inventories, time and attendance records, payrolls, etc. Develops and maintains the special needs roster and the Transportation Disadvantaged Evacuation programs. Must have excellent communication skills, be able to handle confidential records, able to multi-task, be a self-starter, and able to work in a stressful environment. Must be able to develop and maintain Emergency Management website using website development application software. Additional duties may be assigned by the Emergency Management Director. Must be available and prepared to respond to any emergency/disaster or potential emergency, twenty-four (24) hours a day, seven (7) days a week if the Emergency Management Office is activated. All Applicants will be given a skills assessment with a 45-minute time limit.
DEADLINE: Thursday, June 25, 2020 by 4:30 PM.
Applications can be obtained from the following locations: Franklin County Emergency Management, 28 Airport Road, Apalachicola, FL 32320
Or Online: https://www.franklincountyflorida.com/resourc…/job-postings/
"An Equal Opportunity Employer"
"A Drug Free Workplace"
---
FEMA FINAL PUBLIC NOTICE C30 EHP Advertisement
Franklin County acquired FEMA funding through the Flood Mitigation Assistance Program to develop a Flood Mitigation Plan. This plan will support the County's Local Mitigation Strategy and is designed to accomplish the following:
Maintain the County's CRS certification and improve its rating which results in savings to homeowners on their insurance premiums
Educate the residents of Franklin County through outreach about the hazards of flooding
Identify flood prone areas throughout the County and sources of flooding
Identify loss reduction measures through effective mitigation strategies
Raise awareness of the beneficial functions of the floodplain.
The Plan was developed and organized following the ten step process under Section 510, "Floodplain Management Planning", National Flood Insurance Program Community Rating System Coordinator's Manual (April 6, 2016 Draft Edition). The ten step planning process includes:
Organize;
Involve the public;
Coordinate;
Assess the hazard;
Assess the problem;
Set goals;
Review possible activities;
Draft an action plan;
Adopt the plan; and
Implement, evaluate, and revise the
The public and other internal and external stakeholders are highly encouraged to review and provide feedback to this plan. This plan will remain on the county's EM website until close of business on Monday, October 31st.
To Access the Franklin County Flood Mitigation Plan Click Here
Email Feedback to EMFRANKLIN@Franklinemergencymanagement.com
Homeland Security Exercise Evaluation Program (HSEEP) Compliant Exercise and Drill Planning and Execution Results:
RFQ Advertisement that ended on June 3,2016 Click Here
Contracts submitted:
Results of Contract Submitted:

__________________________________________________________________________________________________________________________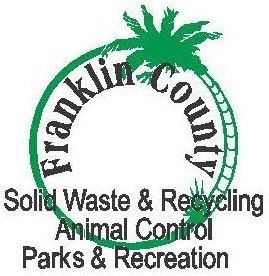 FRANKLIN COUNTY DEPARTMENT OF
Solid Waste & Recycling – Animal Control – Parks & Recreation
210 State Road 65
Eastpoint, Florida 32328
Tel.: 850-670-8167
Fax: 850-670-5716
Email: fcswd@fairpoint.net
PUBLIC NOTICE
Right-of-Way Debris
Franklin County's goal is to maintain clean and safe roadsides. The uncontrolled and unsanitary right-of-way disposal of debris by residents in unincorporated areas, is strictly prohibited by Franklin County Ordinance No. 2016-06. Not only is the debris and trash placement against the law, it degrades the appearance of the county roads and adjacent properties. Any person violating any provision of this ordinance is subject to penalties. If you are in the incorporated area of the County, please contact City Hall for direction on Right-of-Way debris pickup schedule and guidelines.
Allowable Right-of-Way Debris in unincorporated areas of Franklin County
Yard trash limbs up to 18" in diameter, no more than 4 ft. long.
Pine straw, pine cones, leaves and grass clippings
*It is prohibited for Contractors to dispose of debris on the Right-of-Way.*
Any other debris will be the owner's responsibility to dispose of properly at the Central Landfill
Please take the advantage of the once a month Amnesty days
2017 AMNESTY DAY SCHEDULE
Sat. Jan 14 Wed. May 17 Wed. Sept. 13
Wed. Feb 15 Wed. June 14 Sat. Oct. 14
Wed. March 15 Sat. July 15 Wed. Nov. 14
Sat. April 15 Wed. Aug. 16 Wed. Dec. 13
DEBRIS WHICH IS BROUGHT IN BY COMMERICAL CONTRACTORS
OR BUILDERS WILL NOT BE ACCEPTED AS AMNESTY
Franklin County Central Landfill Hours of Operation
October 1st – March 31st Winter Hours 9am – 4:30pm
April 1st – September 30th Summer Hours 7am – 4:30pm
Closed on County Holidays and weekends, except for Saturday Amnesty Days.
If you have any questions, please call the Franklin County Central Landfill at 850-670-8167
or email fcswd@fairpoint.net.